It was a long wait this past month for the latest box from HFB. I received an email on the 10th saying all boxes had been shipped, and the shipping notification arrived promptly in my inbox. And then ... nothing. Usually, deliveries are overnight but I gad exams, and was busy, and kind of forgot about it.
As the end of the month snuck up on me, I realised it hadn't arrived and chased it up with HFB. They chased it up with the shipping company, who had lost my order!
The HFB team quickly came to the rescue though, and prepared my order to go out the next day, with a few extra goodies inside to make up for the inconvenience.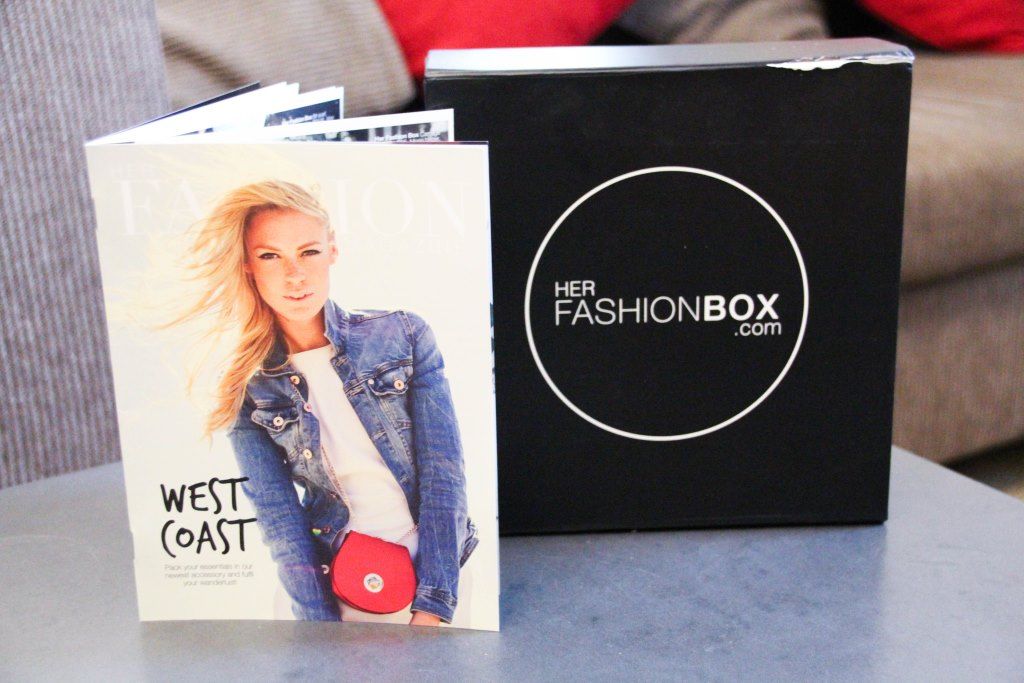 October's theme is 'West Coast', embracing minimalism and gypsy-inspired patterns.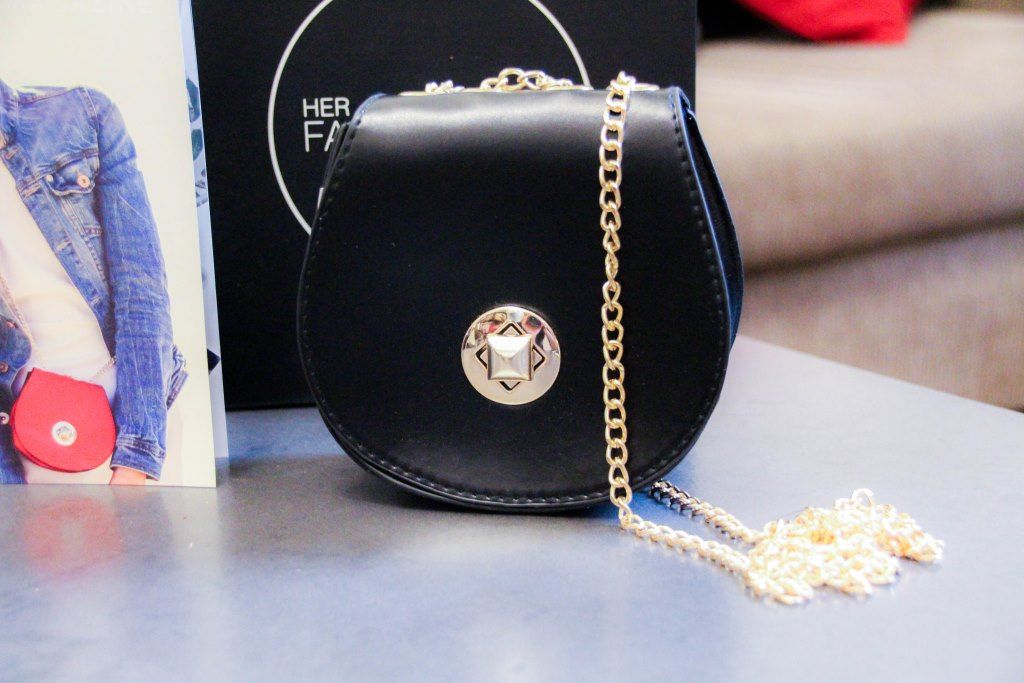 The 'Noir bag' (RRP $29.95) is a bit different to what I would normally go for in accessories. I think the size is perfect, but I would normally probably walk past a bag shaped like this if I saw it in the stores. This style is very on-trend at the moment, and the whole reason I signed up to this box was to challenge my sartorial choices. I definitely have some prints in my wardrobe that would work with this style. I think the key here is styling it the way that HFB have in their magazine - minimalist colours, a touch of print and having the bag as a statement. I really love the gold chain, and the clasp at the front. I also love that despite it being small, it would definitely fit more than a phone and lipgloss in it - yay for practicality!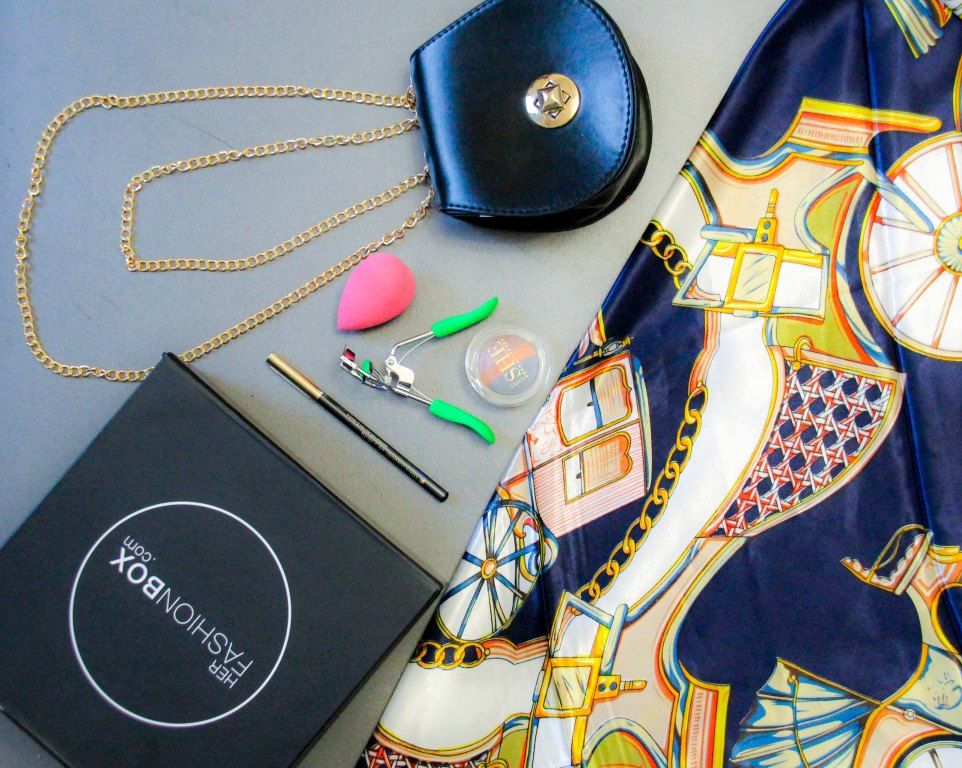 The other fashion piece in this box is inspired by silk scarves, and the print in the classic box is very Hermes-esque. The 'Carriage Scarf is really bold, and I do really like it. Again, there's styling inspiration contained in the mini magazine for those of us who aren't great with scarves, that highlight the versatility of these pieces. Wrapped around your head, your bag, your wrist...they add colour and texture to your outfit. At a RRP of $14.95, this particular scarf is obviously not made out of silk, and was a bit static-y when I took it out of the plastic it came on. Nevertheless, it seems to be pretty good quality, and at that price point you really can't complain.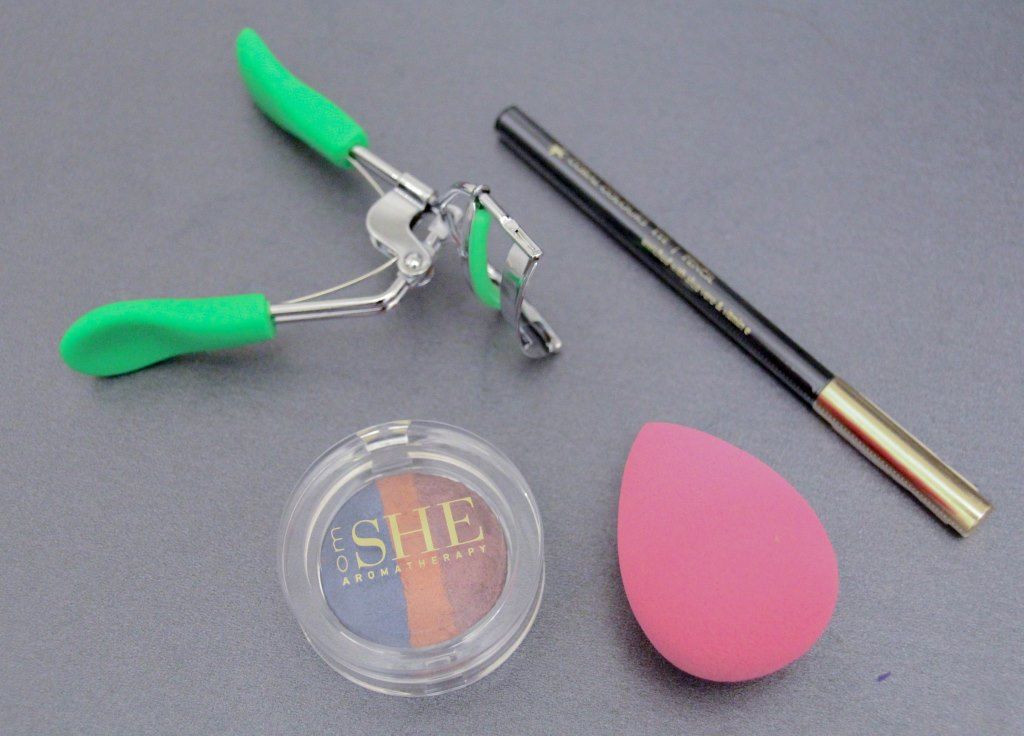 Bit spoiled for choice with beauty products in this month's box...
HFB have come out with their own version of the beauty blender! I haven't tried the original, but am definitely keen to give this blending sponge (RRP $9.95) a go. HFB have also come out with their own eyelash curler (RRP $14.95). I got a bright green one (yay!) and am pretty impressed with it. It's a pretty sturdy construction, and quite rounded. I struggle with eyelash curlers, thanks to my deep-set eyes and I'm glad to report I experienced no pinching with this one!
We also received an eyeliner from Coral Colours (RRP $5.95). I've only tried this brand once, about 10 years ago so it was a surprise seeing it again! This black eyeliner is super pigmented black, and applies easily with no dragging. It also smudges easily, which is great if you're going for a smokey look - not so great if you're going for clean and crisp. It contains Vitamin E and Aloe Vera, which is a nice touch.
The last beauty product is a baked trio of mineral eyeshadows from Omshe Aromatherapy (RRP $14.95). I haven't heard of this brand before. These colours look really pretty, although a little bit strange to have these particular three paired together.
Overall, I'm really happy with the October box - I love both the fashion items, and am interested in trying out all the beauty products.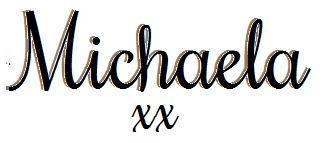 Twitter
|
Youtube
|
Instagram
|
Pinterest
|
Bloglovin