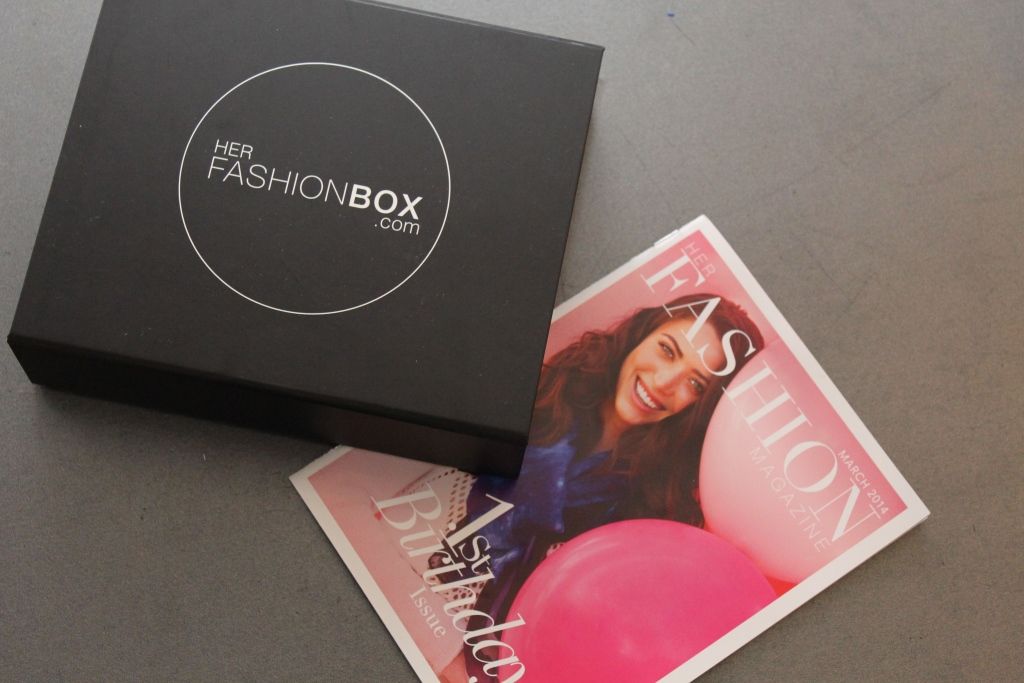 I was pretty happy when I got home tonight to find that the postman had left me my March 'HFB' box sitting under my awning. Yayyy! This box was super duper late ... because as you may know, it is April.
Apparently there was a delay with receiving something, but we were told not to worry because these boxes were the biggest and best so far because it was their birthday issue. There was even a little something extra in the boxes for us!
Hearing this, I was obviously excited and growing more and more impatient as the days went by and I received no tracking information.
So what was inside?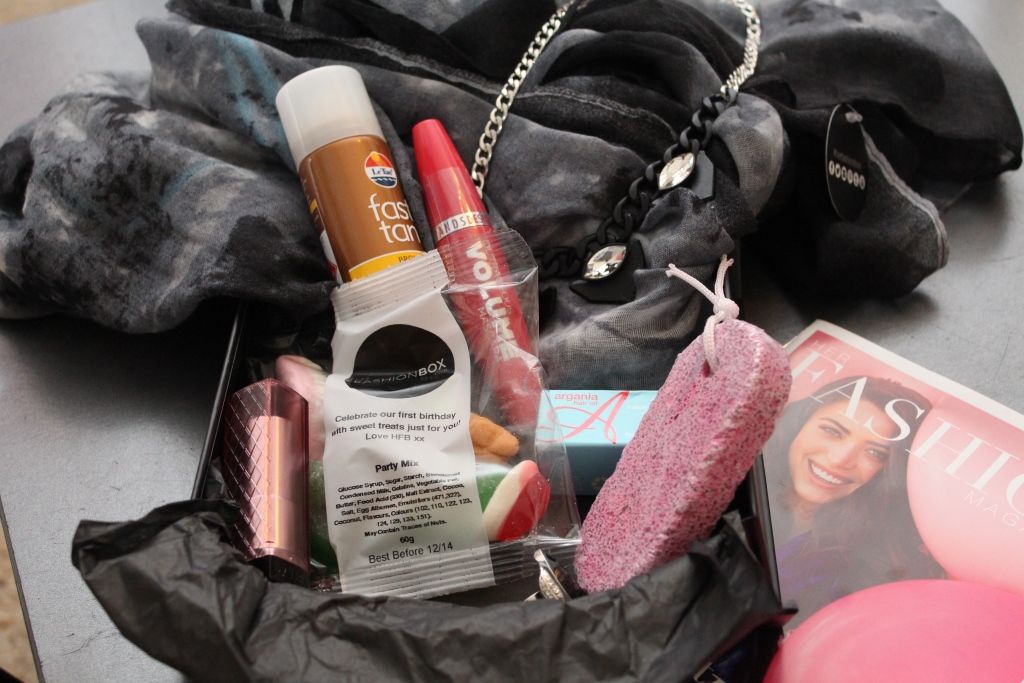 Looking like a pretty good mix of items !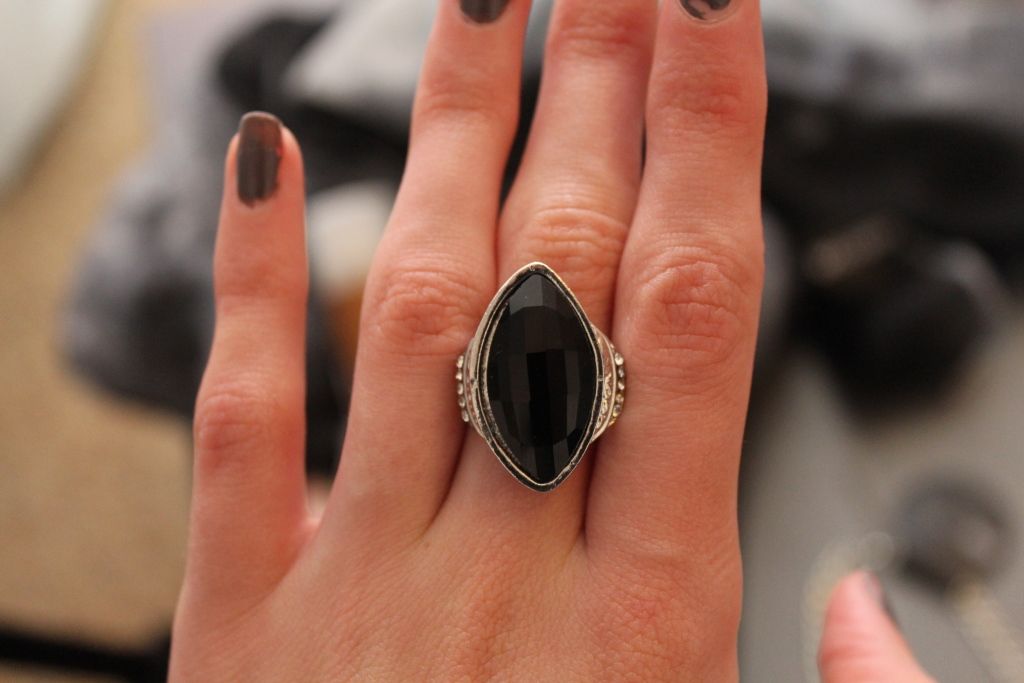 The ring was the first thing I noticed when I opened the box, and I absolutely adore this! This is like quite a lot of the other costume jewellery rings I own, and I know it will fit in nicely with the rest of my wardrobe.
(RRP $12.95)
The other big fashion item was this necklace. It's a bit different, but I kind of like the heavy chains and the little jewels. In the mini HFB magazine it's been styled with a white shirt, and I really like that look so I can't wait to give it a try.
(RRP $29.95)
The last big fashion item was this moon print scarf. It's big and black / white / grey tones go with everything so I'm positive I can work this into my wardrobe.
(RRP $32.95)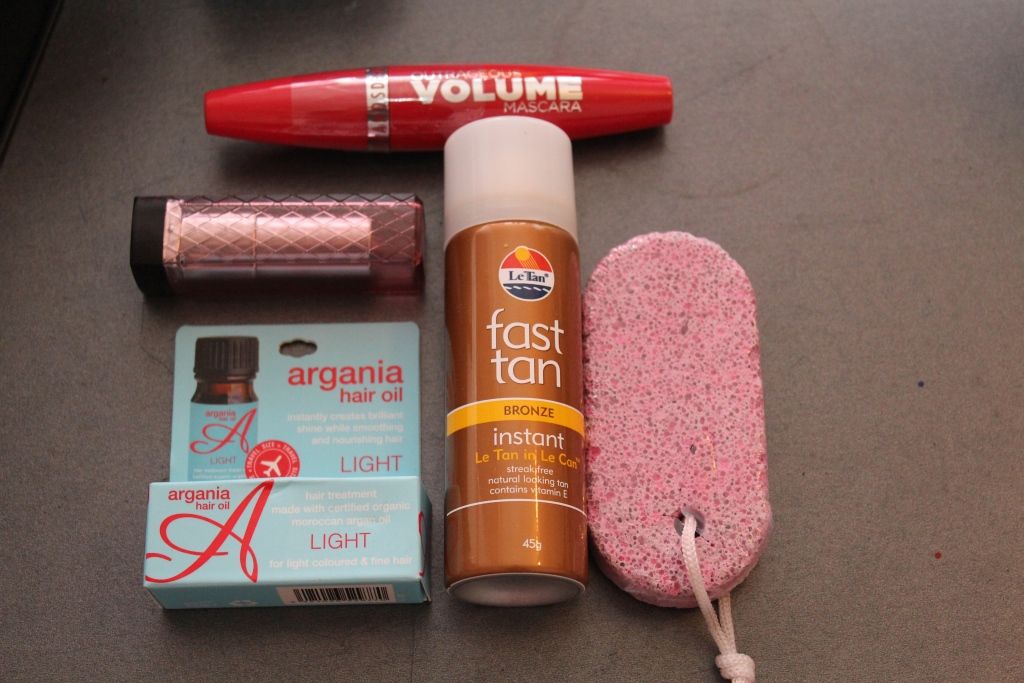 The beauty items!
We got an 'Outrageous Volume mascara' from Designer Brands. I'm not that fussed with this brand of cosmetics and am yet to find a product of theirs that I actually really like. I'll still give this a go and hopefully it's not too bad.
(RRP $9.99)
Now don't get excited. I know that lip product looks remarkably similar to a Revlon lip butter, but it is in fact a "Colour by TBN moisturising lipstick". I've never heard of this brand before, and the blatant rip off packaging kind of bothers me. That being said, the colour I got is a really pretty frosty pink so it is a welcome addition to my collection.
(RRP $3.50)
I was pretty happy to see the includsion of Argania hair oil in this box. I freaking love oils, and I know my dry hair will drink this up. We received a generous 5mL sample and I cannot wait to get this on my locks.
(RRP 34.99 for 100mL; $5.99 for 5mL)
I've mentioned before that I'm not into fake tanning, so I wasn't that fussed to see this bottle of Le Tan in Le Can. I might give it a go one night when I'm looking for something to do.
(RRP $15.49 for 150g; $6.99 for 45g)
And the pumice stone. This was apparently the bonus gift. Meh.
I'll put it to use but honestly, I'm a little let down.
We also received a little lolly mix as well which was a nice touch. I'm not a massive fan of lollies so will be handing these over to J to indulge in.
Overall, I really like the contents in this box. I do feel though that my like for what I received is a little hampered by my disappointment. I just can't help that I feel disappointed that I waited so long for this, and that my expectations were so built up. I don't see much of a difference between the products in this box, and the products I've received in previous boxes - nothing in this box particularly screamed "this is a special present for it being our birthday" and overall that left me feeling a bit sad and meh.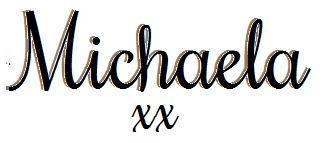 Twitter
|
Youtube
|
Instagram
|
Pinterest
|
Bloglovin